When recording and mixing music, having a thoughtful and optimized workflow is essential to encourage maximum creativity. If you use Logic Pro X, there are plenty of native tools and resources that help enhance your process. Among these is the ability to track stacks and organize your workflow in a way that works for you. In this guide, we will break down how to track stack in Logic Pro X. We'll explore how track stacking can streamline your projects and improve your mixing workflow.
Stacking Tracks In Logic Pro Can Help Streamline Your Project Organization
Efficiency is at the heart of successful music production, and Logic Pro X equips you with the tool of track stacking to achieve precisely that. Track stacking involves grouping related tracks into a single, unified stack. While we will explain in more detail why this is useful as you read on, stacking tracks in Logic Pro serves multiple valuable purposes.
Track stacking allows you to simplify your track organization, engage in more efficient mixing, and allows you to implement an intuitive workflow structure within your project. As we delve deeper into this topic, you'll discover how Logic Pro X's track stacking can be your secret weapon for a more seamless and productive creative process.
First, let's take a look at how track stacking works in Logic Pro.
LOOKING FOR THAT PRO SOUND?
Download our most popular resource: 6 Steps for Creating Radio Ready songs to learn the fundamentals of what goes into a professional mix from renowned Producer, Songwriter & Mixer Warren Huart, who has worked on several Grammy-nominated albums!
What Does It Mean To Stack Tracks?
Stacking tracks in Logic Pro X involves the practice of grouping related tracks into a single stack. It will help you structure your project to enhance your creativity and productivity. 
Creating a track stack serves as a container for related elements, whether individual instruments, vocal harmonies, or sections of your composition. This organization simplifies navigation within your project, making it easier to manage, manipulate, and collaborate on various elements simultaneously.
Types of Track Stacks In Logic Pro
Within Logic Pro X, two primary types of track stacks stand out for their distinct roles and advantages: Folder Stacks and Summing Stacks. These two stack variations offer specific organizational and mixing benefits:
Folder Stack:

A Folder Stack simplifies your project organization by grouping multiple tracks into a single, organized container. This type is beneficial when managing various elements within your project, such as different takes or individual instruments. It streamlines navigation and helps maintain project clarity. When a folder stack is established, the primary track is designated as the stack master, serving as a VCA master fader. Through either the primary track or the stack master channel strip, you can perform actions such as muting, soloing, and adjusting the volume level for the entire folder stack.

Summing Stack:

Summing stacks enable the consolidation of multiple tracks and the routing of their output to an audio subgroup. Upon the creation of a summing stack, the outputs from the subtracks are directed to a designated bus. The destination auxiliary (aux) of this bus is then linked to the main track, which serves as an audio subgroup. By selecting the main track, you gain the ability to perform actions such as muting, soloing, adjusting volume, and send levels for the entire summing stack, as well as adding and editing plug-ins that impact the sound of all the sub-tracks within the summing stack.
Folder and Summing Stacks in Logic Pro X are essential in your music production process. As we delve deeper into this topic, we'll explore the intricacies of each stack type. Our goal is to provide fresh insights into how they can elevate your creative projects.
The Advantages of Stacking Tracks In Logic Pro X
Track stacking in Logic Pro X is not just about organization; it's a game-changer for music production. Let's explore how it offers a multitude of advantages that can significantly impact your creative process.
Improved Mixing Workflow with Track Stacks
When it comes to mixing, efficiency is the name of the game. Track stacking in Logic Pro X delivers a profound enhancement to your mixing workflow that can't be overstated. Imagine your mixing console as a canvas and each track as a paint stroke. 
The more tracks you have scattered around, the more cluttered and convoluted your canvas becomes.
Now, enter track stacking. It's like taking those individual paint strokes and organizing them into coherent sections on your canvas. By consolidating related tracks into a single stack, you declutter your mixing workspace. This creates a much more clean and organized environment. 
This streamlined approach means you can focus your attention where it matters most – fine-tuning the essential sonic elements that define your music.
With the distractions of excessive track sprawl eliminated, you can sculpt your mix with precision and intention. Each element within the stack is presented in an organized fashion, allowing for efficient adjustments and a more enjoyable mixing experience. 
The result? Your mixes become well-balanced and polished to perfection, achieving the sonic clarity and impact you desire.
Enhancing Collaboration and Project Clarity
Collaboration is the lifeblood of creativity when it comes to music production. Effective communication and clarity are non-negotiable whether you're working with a band, a producer, or a team of engineers. 
This is where the beauty of track stacking in Logic Pro X shines through.
Track stacks offer a clear and organized project structure. This structure makes it easy for musicians, producers, and engineers to understand the project's layout, share ideas, and collaborate effectively. 
It ensures everyone involved in the music production process is on the same page, minimizing confusion and maximizing productivity.
How To Track Stack in Logic Pro X
Now, let's get hands-on with track stacking in Logic Pro X. This section will provide step-by-step instructions for how to track stack in Logic Pro X.
These methods will empower you to streamline your project and enhance your music production workflow.
Building a Folder Stack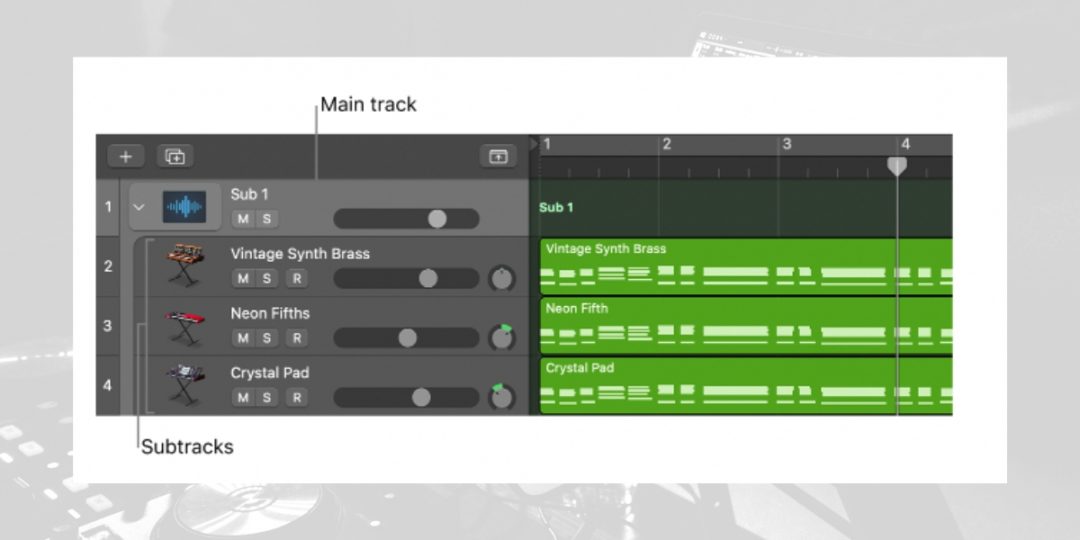 Select Your Tracks:

Select the tracks you want to include in your Folder Stack. Click and drag to highlight them in the Tracks area.



Right-Click or Control-Click:

Next, once your tracks are selected, right-click or control-click on any of the highlighted tracks.

Create Track Stack:

From the context menu that appears, navigate to the "Create Track Stack" option. Click on it.

Choose Folder Stack:

After that, a window will pop up, allowing you to choose the type of stack. Select "Folder Stack" and click "Create."

Name Your Stack:

Logic Pro X will create a new stack with the selected tracks, and you can name it to reflect its contents or purpose. This step helps maintain project clarity.



Access Stack Controls:

Finally, once your Folder Stack is created, you can access its controls by clicking the disclosure triangle next to the stack's name. This allows you to expand or collapse the stack, revealing or hiding the tracks within it.
Creating a Summing Stack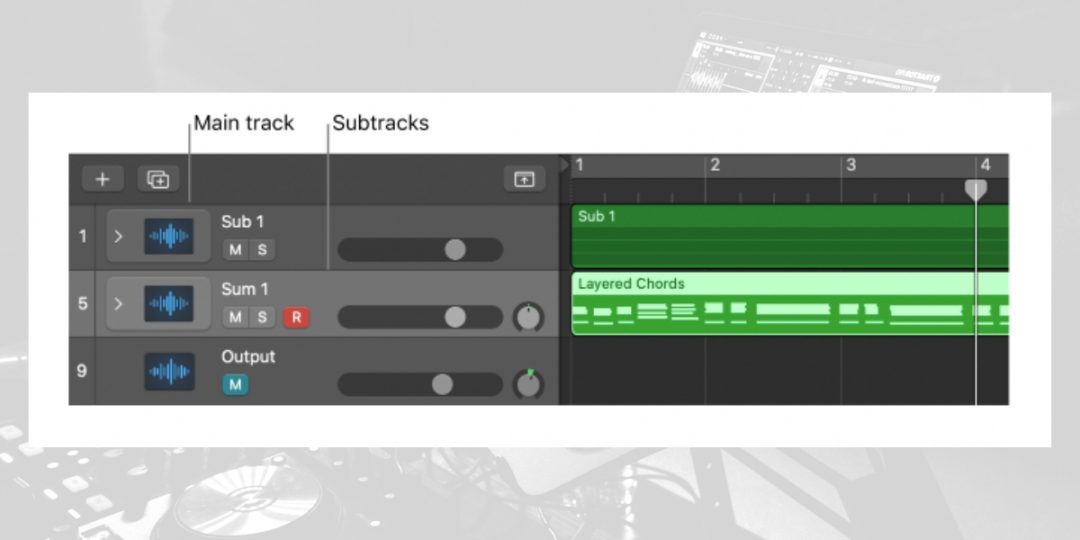 Select Your Tracks:

Similar to building a Folder Stack, start by selecting the tracks you want to include in your Summing Stack.

Right-Click or Control-Click:

Once your tracks are selected, right-click or control-click on any of the highlighted tracks.

Create Track Stack:

From the context menu, choose the "Create Track Stack" option.

Choose Summing Stack:

Next, in the window that appears, this time, select "Summing Stack" and click "Create."

Name Your Stack:

As with Folder Stacks, name your Summing Stack for easy reference.

Access Summing Stack Controls:

Just like with Folder Stacks, use the disclosure triangle to access the Summing Stack's controls, allowing you to expand or collapse it as needed.
Tips and Techniques for Effective Track Stacking
Now that you know how to create track stacks in Logic Pro X, how can you best utilize it? Let's take a look at a few common applications for Logic track stacks that you use to your advantage. 
Strategically Group Tracks:

Simplify project organization by categorizing and grouping related tracks. Consider when to create Folder Stacks or Summing Stacks based on your project's specific needs.

Balance Mix Elements:

Use track stacking to control and manipulate individual elements, achieving a well-balanced mix. Adjust volume, panning, and effects within each stack for a cohesive and polished sound.

Efficiently Use Automation:

Integrate automation with track stacks to fine-tune your music's dynamics and expression. Automate elements within your stacks to add depth and creativity to your compositions.

Collaborate Seamlessly:

Collaborate effectively with others by harnessing the organizational power of track stacks. Maintain project clarity and facilitate smooth communication during collaborative efforts.
Closing Thoughts: The Importance of Knowing How To Track Stack in Logic Pro X
Learning how to track stack in Logic Pro X is a valuable skill for music producers and enthusiasts alike. With Logic Pro X's track stacking, you can take your creative projects to new heights. They can help you achieve sonic clarity, improve workflow efficiency, and collaborate like never before.Remember, track stacking isn't just a tool; it's a transformative strategy that empowers you to bring your musical visions to life with precision and ease. 
Interested In Learning More Ways To Enhance Your Logic Workflow?
If you're eager to elevate your music production abilities and craft exceptional tracks using tools like tack stacking, consider exploring our Logic Pro X masterclass with Rob Mayzes. This comprehensive course covers all aspects of achieving top-tier mixes.