When it comes to recording your music, precision is critical. Ensuring that every note, every vocal, and every instrument is in perfect harmony is a goal shared by many producers and artists. This is where Flex Pitch in Logic Pro X comes into play, offering a powerful pitch correction and enhancement tool. In this guide, we'll take you on a journey through the art of pitch correction in music production. We will look at how the Logic Pro Autotune tool, known as Flex Pitch, works and provide you with tips, tricks, and advanced techniques to perfect your sound. 
The Art of Pitch Correction in Music Production
Tools like Autotune play a pivotal role in music production for more reasons than one. They enable producers to correct pitch imperfections, ensuring that vocals and instruments are in tune. This correction elevates the overall quality of the music, making it more pleasant to the listener's ear. 
Additionally, Autotune and similar features save valuable time in the recording and editing process, allowing artists to focus on their performance rather than spending excessive hours on manual tuning. 
These tools are beneficial for artists who don't have perfect pitch but still want to achieve a polished, professional sound. With Autotune, the fine-tuning of vocal tracks becomes an efficient process, enhancing the overall listening experience for the audience.
Does Logic Pro Have Autotune Pitch Correction?
If you're looking for Logic Pro Autotune, you won't find a feature explicitly named "Autotune" as you would in Antares Autotune or other dedicated pitch correction plugins. However, Logic Pro offers robust pitch correction capabilities through its Flex Pitch technology. 
Flex Pitch allows you to manipulate the pitch and timing of audio recordings with high precision. This means you can achieve pitch-perfect vocals and instrumentals within your Logic Pro project.
For those who prefer using third-party plugins, you can seamlessly integrate Antares Auto-Tune in Logic Pro X. At the end of the day, some producers and artists prefer the unique features and characteristics that Antares Auto-Tune brings to the table. 
By incorporating Antares Auto-Tune into your workflow, you can access additional creative possibilities. This includes Auto-Tune's renowned real-time pitch correction and expressive pitch modulation capabilities. This combination of native Flex Pitch and Antares Auto-Tune allows you to choose the best tool for each specific task, giving you greater control over your music production and vocal processing.
How To Use Flex Pitch In Logic Pro X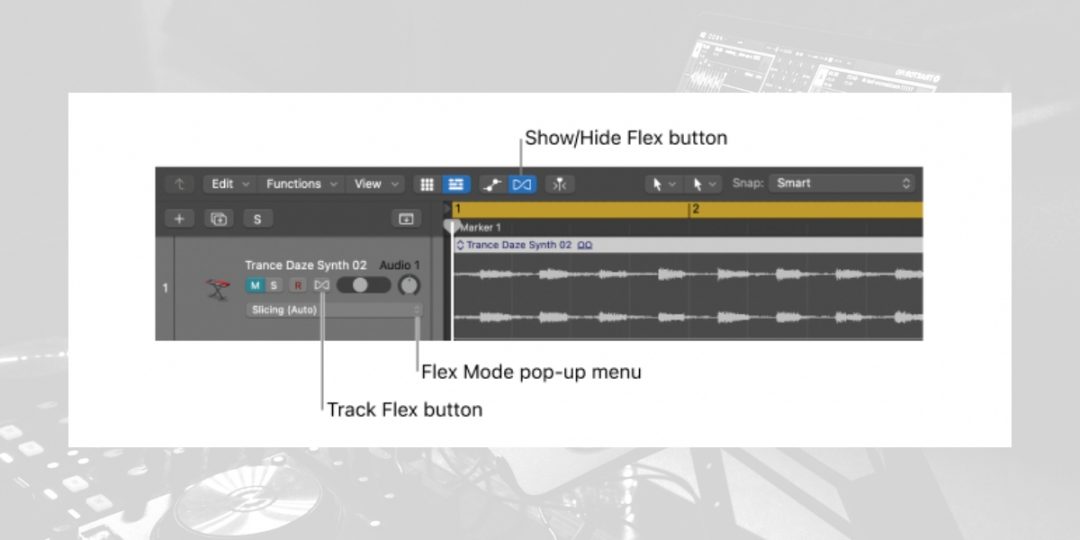 Flex Pitch is a powerful pitch correction tool within Logic Pro that allows you to manipulate pitch and timing. To get started, follow these simple steps:

Open your project in Logic Pro.

Select the audio region or track that you want to edit.

Activate Flex mode by selecting the Flex mode button located in the primary window.

In the Track Editor, click on the Flex button.

Choose the Flex Pitch option from the dropdown menu.

You'll see the pitch correction interface, where you can manually adjust pitch and timing markers.

Click on the note you want to edit and use the pitch correction handles to make adjustments.

Logic Pro's Flex Pitch also offers various correction modes, so experiment with different settings to achieve the desired result.

Once you've made your corrections, remember to turn off Flex Pitch by clicking the Flex button again.
Tips for Effective Flex Pitch Correction in Logic Pro X
When it comes to using Flex Pitch in Logic Pro for pitch correction, a few tips can make the process smoother and more effective. One of the essential tips is to use Flex Pitch conservatively. While it's a powerful tool, it's important not to overcorrect. 
Over-tuning can result in an unnatural sound, so always aim for a balance between correction and preserving the natural character of the performance.
Perfecting the Natural Sound with Flex Pitch
Preserving the natural sound of your audio recordings should always be top of mind when mixing a song. Flex Pitch allows you to make precise adjustments to pitch and timing without sacrificing the organic quality of the performance. 
To achieve this, start by using minimal correction. Only correct notes that are significantly off-pitch to maintain the performer's expression and nuances. This approach ensures that your final result sounds authentic and retains the artist's original intent.
Fine-Tuning: Using Pitch and Time Correction Tools
In addition to pitch correction, Logic Pro's Flex Pitch offers powerful time correction tools. Pay attention to timing discrepancies when fine-tuning, such as slightly ahead or behind-the-beat notes. 
Flex Pitch's time correction markers allow you to align notes perfectly with the grid, enhancing the overall tightness of your performance. Combining pitch and time correction ensures that your music not only sounds in tune but also rhythmically precise, resulting in a professional and polished outcome.
LOOKING FOR THAT PRO SOUND?
Download our most popular resource: 6 Steps for Creating Radio Ready songs to learn the fundamentals of what goes into a professional mix from renowned Producer, Songwriter & Mixer Warren Huart, who has worked on several Grammy-nominated albums!
Advanced Flex Pitch Techniques in Logic Pro
Once you've become comfortable with the basics of Flex Pitch, it's time to explore more advanced techniques. Two powerful aspects to delve into are creating vocal harmonies and using Flex Pitch for creative effects.
Creating Vocal Harmonies with Flex Pitch
Flex Pitch is a versatile tool not only for pitch correction but also for crafting intricate vocal harmonies. To create harmonies, start by duplicating the vocal track you want to harmonize. 
Apply Flex Pitch to the duplicated track and experiment with adjusting the pitch of the copied vocals to create harmonies that complement the lead vocal. This technique allows you to explore harmonization possibilities and add depth to your vocal arrangements.
Flex Pitch Automation for Creative Effects
Flex Pitch automation opens up exciting possibilities for creative sound manipulation. You can achieve unique effects like pitch bends and vocal warping or even create otherworldly sounds by automating pitch adjustments over time. 
Experiment with automating Flex Pitch parameters in different sections of your song. Try using it to add dynamic and expressive elements that can make your music stand out. Whether it's subtle pitch modulation or radical transformations, Flex Pitch automation is a valuable tool for pushing the boundaries of your music production.
Going Beyond Flex Pitch In Logic Pro X 
Mastering Flex Pitch in Logic Pro X can significantly elevate your music production skills, ensuring your recordings are pitch-perfect and rhythmically precise. If you're inspired to learn more about mastering the art of music production with Logic Pro X, we recommend you sign up for our best-selling course, Music Production In Logic Pro X with Rob Mayzes. 
This comprehensive course is tailored to help you streamline your workflow, produce professional mixes using stock plugins, and harness the full potential of Logic Pro. From swift song creation using Apple Loops to mastering the art of recording and editing, this course promises a transformative experience for both budding and seasoned producers. Dive in and discover the secrets of Logic Pro X today!