Ensuring you have a well-balanced EQ mix is one of the most critical aspects of the editing process. To achieve this, you need a clear idea of what you're working towards sonically to guide your EQ choices. For this reason, many engineers use professionally mixed "reference" tracks to compare their mix against to help guide their choices. Fortunately, when mixing in Logic Pro, there is a built-in tool that makes matching your reference tracks easy & effortless. In this brief guide, we will look at the Logic Pro Match EQ tool, how it works, and how it can help you!
What Is Logic Pro's Match EQ Tool?
Among Logic Pro's many powerful and intuitive tools is Match EQ. Logic Pro's Match EQ allows you to easily shape and refine your EQ to match that of a chosen reference track.
In other words, Match EQ lets you easily re-create the sonic qualities of your reference with just a few clicks.
Ultimately, we've found Match EQ is a valuable tool that can save you a lot of time when mixing your tunes. It's like having a second, highly-trained set of ears to help you dial in the mix you seek.
Rather than endlessly tinkering with your EQ settings, Match EQ allows you to quickly adapt your EQ settings to those of your reference track. 
How Does Match EQ Work?
Logic Pro's Match EQ analyzes the frequency balance of your reference track and applies similar EQ settings to your track. It does this by comparing the frequency content of your track against the reference track. It then uses this info to create an EQ curve that mimics the reference track's spectrum. 
Match EQ helps your target track achieve a similar tonal balance to the reference track without manually adjusting individual EQ bands.
Benefits & Uses For Match EQ
Here's a scenario that many engineers have been through at some point. Imagine that you have just spent hours, days, or even weeks working on your EQ mix, and you finally feel like you're getting close.
Then you go to throw on your reference track to compare your sound, and to your disappointment, find that your mix is still sounding a little flat, unbalanced, or just plain off. 
Rather than heading back to the drawing board starting from scratch, Match EQ automatically aligns your track with the reference you want to match. It does the bulk of the EQ work for you, allowing you to make your final adjustments with ease.
Beyond EQ'ing specific tracks, Match EQ also makes it easy to ensure a level of sonic continuity across multiple tracks on an album. Let's say, for instance, that you have tracks that were recorded separately in different environments or with different equipment.
If your tracks all sound wildly different from each other, you risk creating an unintentionally jarring listening experience. 
Fortunately, you can use Match EQ to apply and maintain consistent tonal characteristics & frequency profiles across these different tracks to create a more cohesive flow from one track to the next. 
How To Use Match EQ In Logic Pro X
Here's a comprehensive guide on utilizing Logic Pro's Match EQ tool effectively:
#1) Choose & Upload A Reference Audio Track
Launch Logic Pro X and open the project you're working on. If you're starting a new project, create one by going to "

File

" and selecting "

New

."

To choose a reference track, select "File" and click "Import Audio File". A window will pop up, allowing you to browse your computer for the reference audio file. Click "Open" once you've located it.

Your chosen reference audio can now be loaded into your Logic Pro project as a new track.
#2) Open Logic Pro Match EQ

Select the audio track that you want to match the reference audio. This track will be adjusted to resemble the reference's overall EQ settings.

Next, on the channel strip of the selected track, click on the "Inserts" button (it looks like a puzzle piece). Scroll down and choose "

Match EQ

" from the menu.




A new window will appear, displaying the Match EQ settings. Here you will find 3 tabs at the bottom of the menu, labeled as follows:



Current:

This tab analyzes the settings of your current track that you will match to your reference track.

Reference:

This is where you will analyze the EQ of your reference track 

EQ Curve:

This tab shows the EQ curve that Logic has applied to your track based on the reference track.



#3) Analyze Your Existing Track & Reference Audio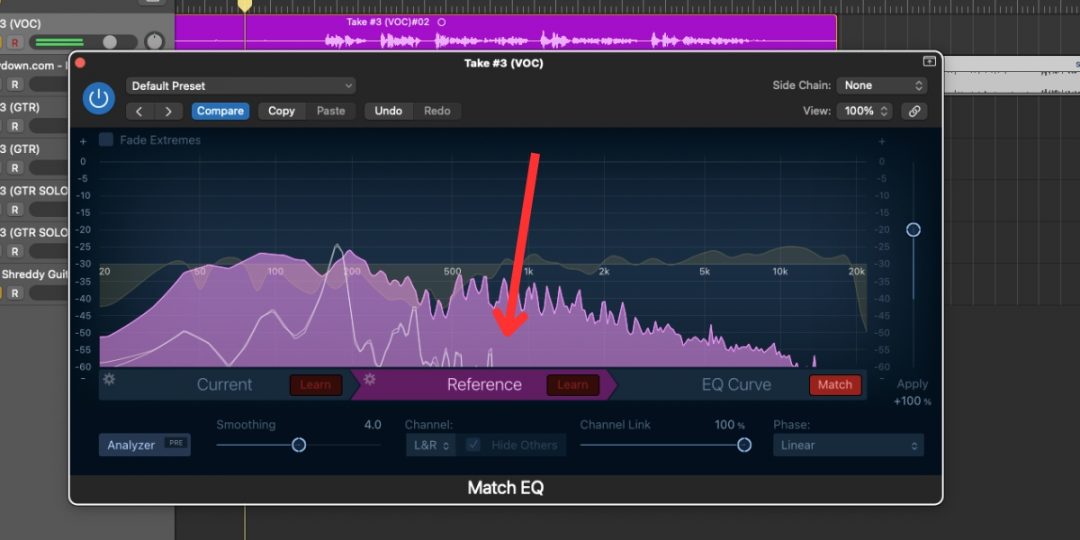 First, you will want to analyze the EQ curve of your existing track. To do this, select the portion of your track you want to analyze and click the "

Learn

" button on the tab. Let the entirety of the track play.

Next, drag and drop your reference track from your project and drop it over the Match EQ tab labeled "Reference." Click this tab's "Learn" button and let the entire track play for analysis. Logic Pro will scrutinize the frequency makeup of the reference track and gather essential information.

Once the analysis is complete, click over to the "EQ Curve" tab and click the button that says "

Match.

" Logic Pro will create an EQ curve similar to your reference track and apply it to your selected original track.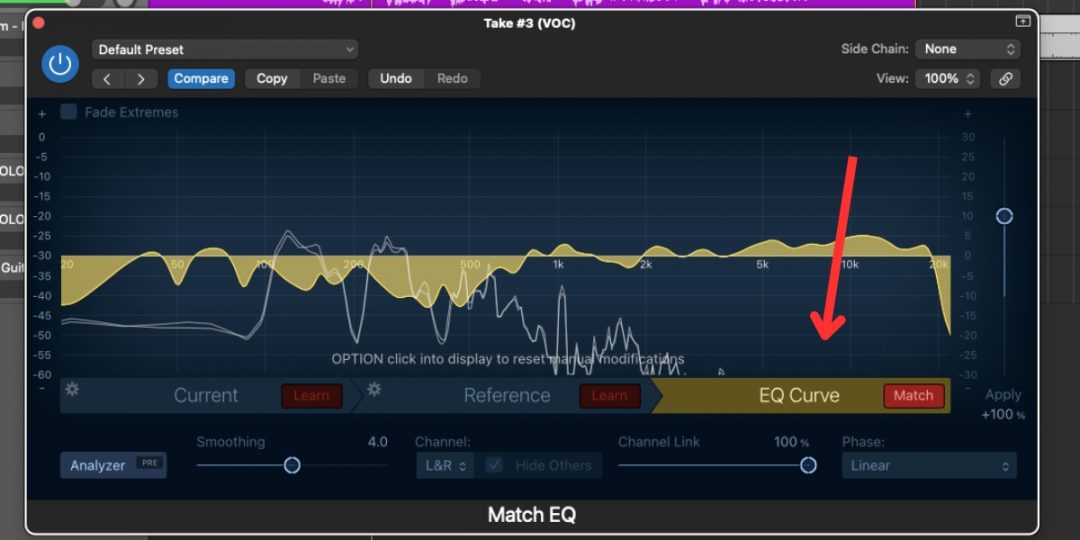 #4) Fine-Tune Your Settings
After applying the Match EQ, listen to your track carefully. You can adjust the strength of the EQ match using the "Amount" slider. This lets you control how closely your track matches the reference.
Next, you can also choose specific frequency bands to match for more refined control. Click the "Show Matched EQ Band" button and then adjust the "Match" slider for individual bands. This allows you to fine-tune your audio's tonal balance.
Creating Logic Pro Match EQ Templates
Match EQ allows you to create & save templates of your favorite reference profiles. This way, you can easily apply the same settings to other tracks in your project. 
To create a Match EQ template, simply click the "Save" button within the Match EQ window and choose "Save as Default" or "Save as Current Setting."
You can pull these templates up anytime you need to apply an EQ template to your track. 
Want To Learn More Tricks For Logic Pro X? 
Hopefully, this guide has given you an in-depth understanding of how to use the Logic Pro Match EQ Tool and when it is useful. Match EQ is one of the many tools built into Logic Pro that can make your life vastly easier when applied thoughtfully.
It's important to be familiar with these tools in Logic Pro if you want to master the art of audio mixing and mastering.
If you're ready to take your music production skills to the next level to start creating truly great music, we recommend you check out our best-selling Music Production In Logic Pro X with Rob Mayzes course. This course is extremely thorough and will take you through everything you need to know about creating professional-sounding mixes in Logic Pro. 
LOOKING FOR THAT PRO SOUND?
Download our most popular resource: 6 Steps for Creating Radio Ready songs to learn the fundamentals of what goes into a professional mix from renowned Producer, Songwriter & Mixer Warren Huart, who has worked on several Grammy-nominated albums!