Logic Pro X is a powerful DAW with a wide range of tools artists and producers can benefit from. Among the many features unique to the DAW is Logic Drummer, which allows you to create versatile & lifelike drum tracks from scratch. This guide will look at some simple tips and tricks for using Logic Drummer to create authentic, dynamic drum tracks.
Logic Drummer Is An Impressive & Innovative Drum Programmer
When it comes to programming drums, Logic Drummer is a true game-changer. Drummer utilizes AI to help you create realistic drum patterns that still have a human feel. This innovative tool alleviates many of the complexities of MIDI programming, which makes it ideal for seasoned veterans and beginners alike.
On top of this, Drummer is natively available in Logic without requiring you to download any additional files or plugins.
One of the great things about Logic's Drummer is that it can analyze and adapt its playing style to match the musical characteristics of your song. This includes everything from tempo to instrumentation and even the overall "vibe" of your song. 
Once Drummer has analyzed your project, it can utilize this information to select drumming styles, patterns, and accents to complement it. Ultimately, this results in natural-sounding beats that seamlessly align with your music. 
Create Realistic Sounding Drum Beats With Drummer
Beyond using AI to analyze your song, Drummer allows you to set specific parameters to help tailor your beats to your liking. These include allowing you to set specific features such as:

Beat Complexity:

Control the intricacy of drum patterns, from simple to intricate, to match your track's complexity.

Feel:

Adjust swing and groove to achieve the desired rhythmic "feel."

Drummer Styles:

Select from various virtual drummers, each with their unique playing style.

Drum Kit Selection:

Choose different drum kits to tailor the sound to your genre.

Instrument Balance:

Adjust the volume balance between different drum components.

Fill Variation:

Define the frequency and complexity of drum fills.

Ghost Notes:

Control the presence of softer, subtler drum hits within patterns.

Swing and Quantize:

Fine-tune the rhythmic placement of drum hits for human-like timing.



By allowing you to dial in specific aspects of your beat, Drummer allows you to truly sculpt your ideal beats with ease. 
LOOKING FOR THAT PRO SOUND?
Download our most popular resource: 6 Steps for Creating Radio Ready songs to learn the fundamentals of what goes into a professional mix from renowned Producer, Songwriter & Mixer Warren Huart, who has worked on several Grammy-nominated albums!
Audition Different Kits & Drummers
Another fantastic element of Logic Drummer is that it allows you to explore your options by auditioning different drum kits and virtual drummers. In other words, Drummer lets you preview how different drummers and kits interact and sound with your project. 
Logic makes this audition process simple by allowing you to select different options to instantly hear how they sound with your song. 
This gives you even greater flexibility when creating your beats because it lets you quickly try out as many different options as you feel like. 
How To Load Up Logic Pro Drummer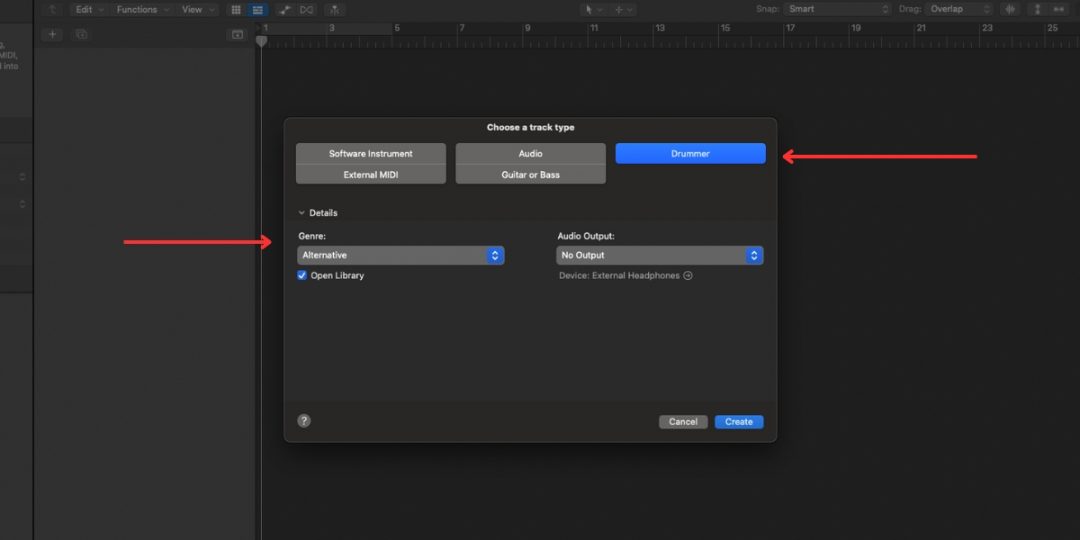 Before you can start with Logic Drummer, let's look at where to find it. 
Open Logic Pro X
Create or open an existing project
Create A New Drummer Track: Add a new track to your project and select the track type labeled "Drummer."
Choose A Genre:

Logic allows you to select a genre from a dropdown list before you create your new drum track. If you already have one in mind, this can save you some time by pre-loading settings that work well with your chosen genre. You can change this option later if you want to. 

Create A New Drum Track: Once you select "Create," Logic will automatically open your drum track with your drum kit designer and library of drummers and kits for you to begin creating a beat. 
5 Tips For Using Logic Drummer
Now that you have Drummer open, it's time to start creating some beats! Below, we will take a look at our top 5 tips for using Logic Drummer to create realistic-sounding beats.

#1) Create A Custom "Performance"
In Logic Drummer, a "Performance" is a customized drum pattern you create for your song. Much like a live performance, this includes elements of how the beat is actually played. This feature allows you to tailor drum patterns to suit your track's unique rhythm and feel. To create a custom "Performance":
Access the Drummer Editor:

Double-click on the Drummer region in your project to open the Drummer Editor.

Adjust Parameters:

Below the drummer's name, you'll find parameters like "

Complexity

" and "

Feel.

" Adjust these settings to match the intricacy and groove you have in mind.

Edit the Drummer Region:

Logic Drummer will generate a drum region based on your chosen parameters. To further customize the pattern, click on the region to reveal the MIDI note (more on this below).

Save Your Custom Performance:

Once you're satisfied with the pattern, you can save it as a custom performance. Click the "

Save

" button in the Drummer Editor's header. We recommend that you give your performance a meaningful name that reflects its style or function.

Access Custom Performances:

Your custom performance will now appear in the Drummer Editor's menu alongside the default performances.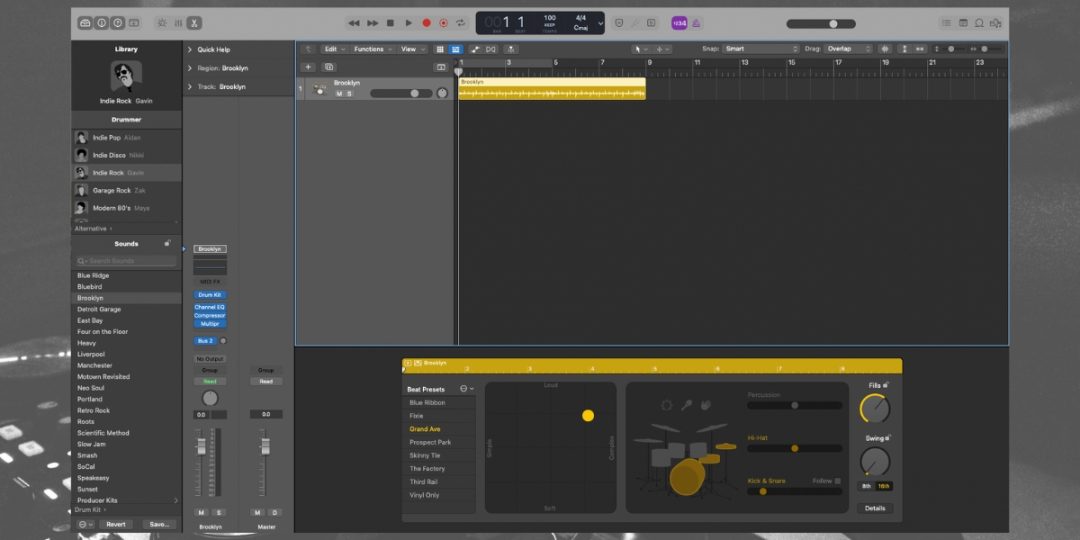 #2) Switch Drummers Or Kits
Logic Drummer's versatility shines as you explore different drummers and kits to find the perfect fit for your track. To switch drummers or kits:
Access the Drummer Editor:

Open the Drummer Editor by double-clicking the Drummer region in your project.

Select a Different Drummer:

Click the drummer's name above the Drummer Editor to access the menu.

Explore Drummers:

Browse through the list of available drummers and click on a new one.

Switch Drum Kits:

Once you've chosen a new drummer, you can explore the different kits they offer right below the drummer menu. 

Preview the Sound:

As you click on different kits, listen to how they interact with your track.

Confirm Your Choice:

When you've found a suitable drummer and kit, click to confirm your selection.

Experience the Transformation:

Your drum pattern will now adapt to the new drummer's style and the chosen kit's sonic characteristics.



Switching drummers or kits in Logic Drummer offers a quick and effective way to experiment with various sounds, ensuring that your drum tracks perfectly complement your music.
#3) Convert Drummer To MIDI Region
Logic Drummer's flexibility extends to converting its generated drum patterns into MIDI regions for further customization.
Access the Drummer Editor:

Open the Drummer Editor by double-clicking the Drummer track.

Select "Convert to MIDI Region":

In the contextual menu, choose "

Convert to MIDI Region.

"

Review and Edit MIDI:

After converting, you'll notice that the Drummer region has transformed into a MIDI region. This MIDI region represents the drum pattern generated by Logic Drummer.

Review and Edit MIDI:

The Drummer region transforms into a MIDI region, allowing manual edits.

Customize Drum Hits:

Adjust individual MIDI notes to fine-tune your beats accents and dynamics.



Converting a Drummer region to MIDI gives you much more granular control over your beat, allowing you to tailor it to your song. 
#4) Adjust Your Patterns
Fine-tuning your drum patterns in Logic Drummer allows you to craft the perfect rhythmic foundation for your music. Follow these steps to add some spice and variety to your beats.
Edit Complexity and Feel:

Logic Drummer provides user-friendly sliders to control your pattern's "

Complexity" and "Feel."

 

Modify Individual Drum Hits:

Click and drag individual drum hits within the Drummer Editor to refine specific aspects of your pattern. 

Experiment with Fills:

Logic Drummer also allows you to adjust the frequency and complexity of drum fills. We've found that you can use these settings to enhance transitions and create excitement in your music.

Ghost Notes and Swing:

Explore the options for including ghost notes (softer hits) and fine-tuning swing and quantization settings to achieve your desired rhythmic nuances.
As you make adjustments, listen carefully to how each change affects the overall feel of your pattern. Don't hesitate to iterate and fine-tune until you achieve the perfect rhythm for your track.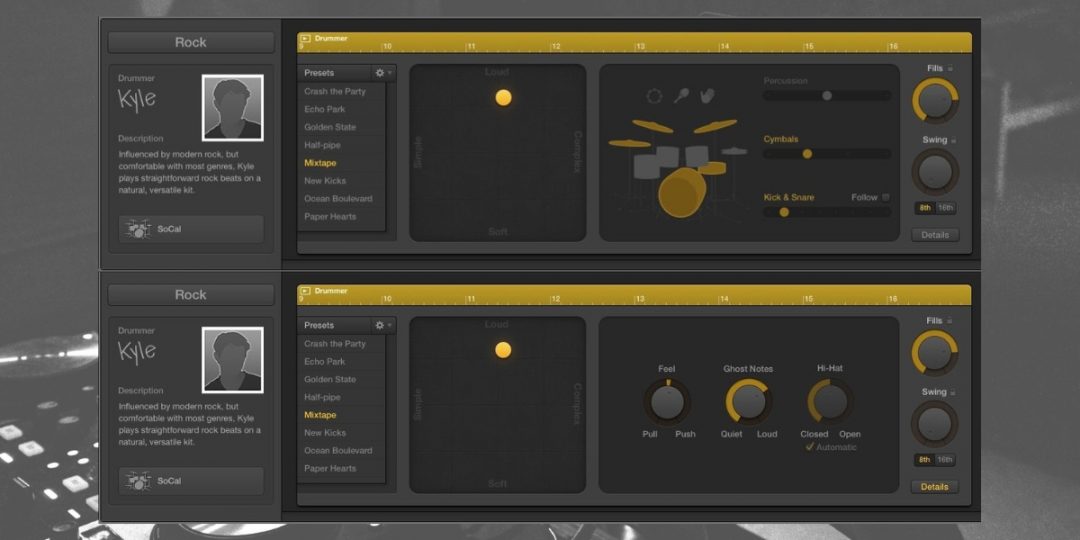 #5) Using Producer Kits
Logic Drummer offers access to a range of unique "producer" kits. Producer Kits are specially crafted drum kits that recreate the essence of iconic producers and their signature sounds. These kits allow you to infuse your tracks with the distinctive sonic characteristics associated with renowned music producers. 
Here's how to make the most of these unique kits:
Load the Producer Kit: In the Drummer Editor, navigate to the "Drum Kit" section. Click on the drum kit name to open the menu, and then select "Producer Kits."
Explore the Available Producer Kits:

Logic Drummer offers a selection of producer kits, each inspired by a different music producer's unique style. Browse through the options to find the one that aligns with your creative vision.

Customize Drummer Settings:

After selecting a producer kit, adjust the drummer's parameters, following the steps we've provided above. 
Closing Thoughts: Logic Drummer Packs In Everything You Need For Clean Beats
At the end of the day, Logic Drummer is an amazing and flexible tool that can help you create some truly great drum beats. From its extensive library of drummers and kits to the ability to create custom performances, Logic Drummer offers a level of versatility that empowers you to explore diverse rhythms. 
Whether you're striving for organic grooves or experimenting with futuristic beats, Logic Drummer's user-friendly interface offers a fun & accessible way to craft professional & realistic sounding drum tracks.
To learn more about making beat magic with Logic Drummer, we highly recommend that you check out this video, where acclaimed producer SEIDS breaks it down even further: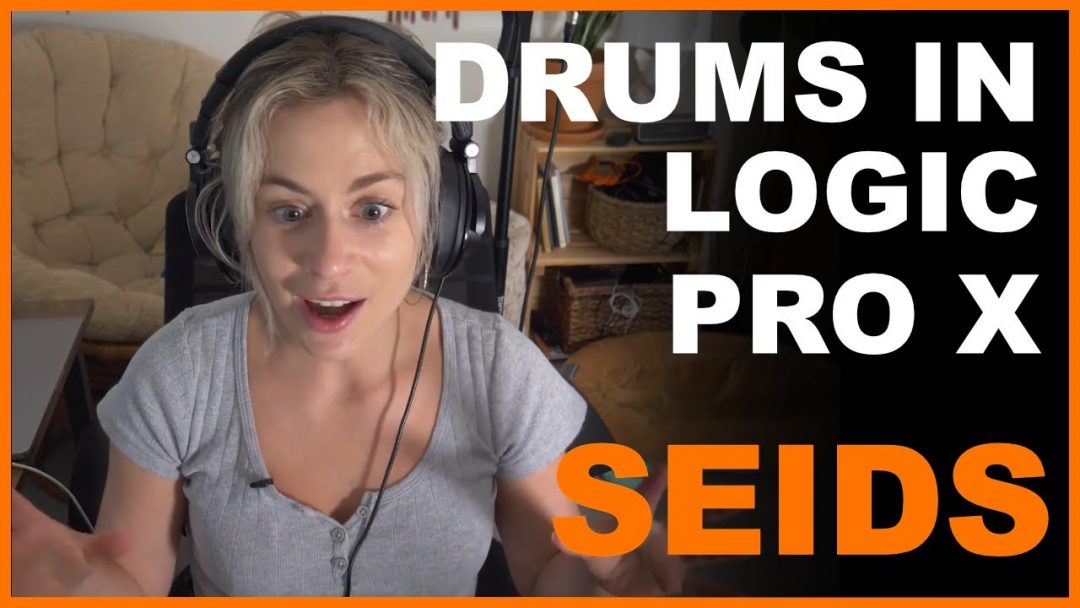 Looking for More Logic Pro Tutorials?
Are you ready to take your music production skills to the next level to start creating genuinely great music? Music Production In Logic Pro X with ROB MAYZES is a Logic Pro X masterclass that will take you through everything you need to know about developing professional sounding mixes.