If you're a Mac user interested in producing music, you've probably heard of both Logic Pro and Garageband. While both programs come from Apple, they're not identical. In fact, there are some significant differences between the two that could impact your decision on which one to use. This guide will break down the key differences when comparing Logic Pro vs. Garageband and how to choose between the two DAWs.
Comparing Logic Pro vs. Garageband
When comparing Logic Pro vs. Garageband, there are a few different angles that need to be considered. 
First, it's important to note that Garageband is free and comes pre-installed on all Macs, while Logic Pro costs $199. This alone could be a deciding factor for many users, especially those who are just starting out and don't want to invest much money upfront. However, if you're serious about producing music and need more advanced features, Logic Pro may be worth the investment.
One of the most significant similarities between Logic Pro and Garageband is that they offer intuitive interfaces that are easy to use, even for beginners. They also share many of the same features, such as virtual instruments, MIDI editing, and mixing tools. 
Similarities Between Logic Pro and Garageband
There are actually quite a few similarities between Logic Pro and Garageband. Let's break them down here. 
Common Interface and Workflow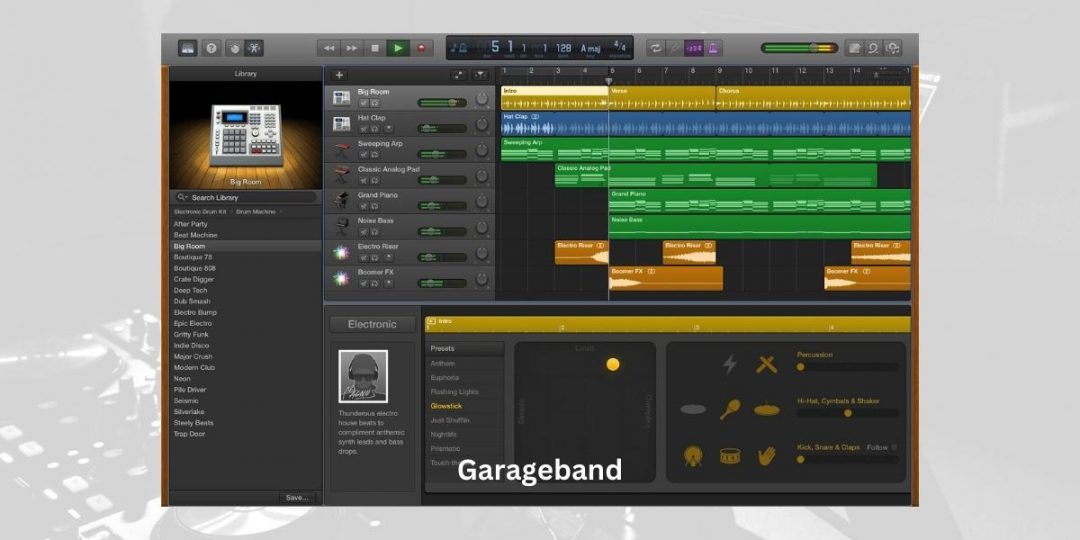 Both Logic Pro and Garageband have a similar interface and workflow. This is because they were both developed by Apple and share many of the same design principles.
They both use a timeline-based layout, with tracks for audio and MIDI, and a mixer for controlling levels and effects. The overall look and feel of the two programs is very similar, which makes it easy to transition from one to the other.
Audio Recording and MIDI Capabilities
Logic Pro and Garageband both have excellent audio recording and MIDI capabilities. They also support multi-track recording, punch-in recording, and audio editing. 
Both versions of the DAW also have powerful MIDI editing tools, including piano roll editors, drum editors, and score editors. This makes it easy to create and edit MIDI sequences and to record and edit audio tracks.
Included Virtual Instruments and Effects
Logic Pro and Garageband both famously come with a wide range of high-quality virtual instruments and effects. These include synthesizers, samplers, drum machines, and more. They also have a range of built-in effects, including EQ, compression, reverb, and delay. 
This means you can create a wide range of sounds and effects without purchasing additional plugins for Logic Pro or Garageband.
Logic Pro vs. Garageband: What's Different? 
Now that we've explored the common ground between Logic Pro and Garageband, we can consider what sets them apart from each other 
Price and Accessibility
When it comes to the critical differences between Logic Pro vs. Garageband, price and accessibility are often the first factors that users consider. 
As mentioned above, Garageband comes free with all Mac computers, making it a great choice for beginners or casual users who don't want to invest in expensive software. 
Logic Pro X, on the other hand, costs $199.99, making it a more significant investment. However, Logic Pro X offers a wider range of features and capabilities that may be worth the cost for more advanced users. While this upfront cost might deter some, it comes with a significant feature upgrade, making it a worthwhile investment for serious music producers.
Advanced Features in Logic Pro X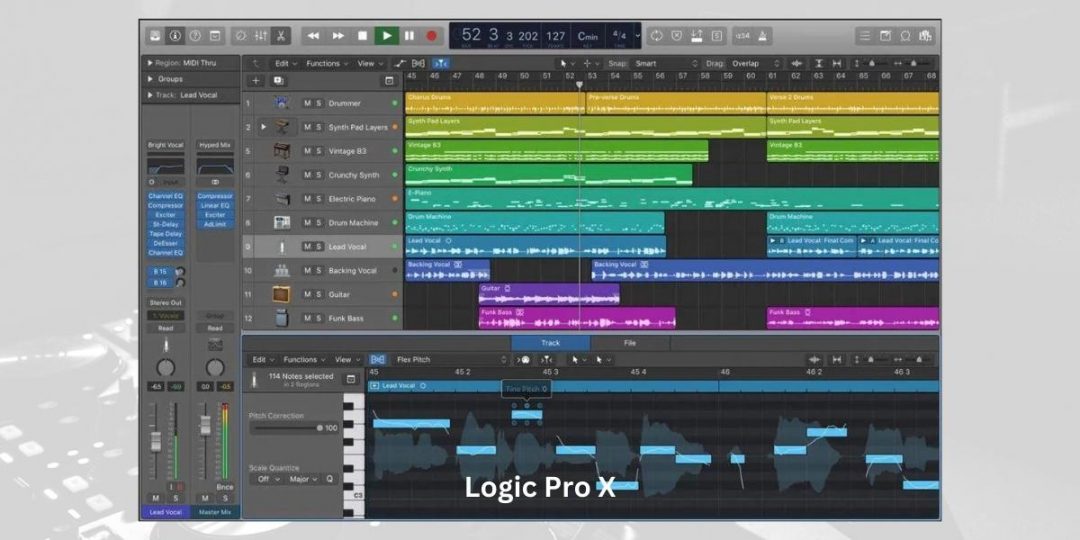 Logic Pro X offers a range of advanced features that distinguish it from Garageband, making it the top choice for those seeking to elevate their music production to a professional level.
Enhanced Audio Recording and Editing Capabilities:

Logic Pro X takes audio recording and editing to the next level, offering a variety of tools for recording and editing multiple tracks with precision.

Features such as flex time, flex pitch, and smart tempo provide unparalleled control, allowing you to correct timing issues, fine-tune pitch, and maintain consistent tempo throughout your tracks. These tools are indispensable for achieving polished and precise sound, making Logic Pro X the choice for professional musicians and producers.
Expansive Virtual Instruments and Effects:

  Logic Pro X provides an extensive library of virtual instruments and effects, offering a broad sonic palette. It caters to various musical genres, including everything from synthesizers and samplers to drum machines.

Additionally, it includes built-in effects like equalization, compression, reverb, and delay, ensuring your music sounds professional and unique. These high-quality instruments and effects are essential for standing out in the competitive music production landscape.

Comprehensive MIDI Editing: Logic Pro X excels in MIDI capabilities with its piano roll, drum, and score editors. These tools enable the precise crafting of MIDI sequences, whether you're composing complex orchestral arrangements or intricate electronic melodies.

They also empower you to bring your musical ideas to life effortlessly.
Professional vs. Casual Use
The choice between Logic Pro and Garageband ultimately depends on your intended use. Garageband's user-friendly interface and cost-effectiveness make it ideal for casual musicians, hobbyists, or beginners exploring music production. It's perfect for sketching out ideas and learning the basics. 
Logic Pro X, on the other hand, caters to the needs of professional music producers and advanced enthusiasts. Its advanced features and capabilities make it the go-to choice for those serious about creating high-quality music and needing the tools to match their ambition.
Which DAW Is Right for You?
Choosing between Logic Pro vs. Garageband ultimately comes down to your specific needs and goals as a music producer. Here are some key factors to consider:
Your Budget:

Garageband's free price tag is very appealing if you're just starting and have a limited budget. It provides essential tools to get you going without any financial commitment.

On the other hand, Logic Pro X requires a one-time purchase at $199, but its advanced features may justify the investment if you're serious about your music production.
Skill Level:

If you're new to music production and digital audio workstations, Garageband's user-friendly interface and simplified features are a great place to begin. It will help you grasp the basics of recording, editing, and mixing without feeling overwhelmed. Logic Pro X, while more complex, offers a seamless transition once you've honed your skills in Garageband.

Your Musical Ambitions:

Consider the style and complexity of the music you aim to create. Garageband is excellent for casual use and simple recordings. However, if you aspire to produce intricate, professional-grade music with intricate arrangements, Logic Pro X offers the tools required for the task.

The Professional Edge:

If music production is more than just a hobby for you, Logic Pro X provides the professional edge. Its advanced audio editing and production capabilities make it an industry-standard choice for many music producers and sound engineers. It's the go-to DAW for those who demand top-tier results.
LOOKING FOR THAT PRO SOUND?
Download our most popular resource: 6 Steps for Creating Radio Ready songs to learn the fundamentals of what goes into a professional mix from renowned Producer, Songwriter & Mixer Warren Huart, who has worked on several Grammy-nominated albums!

Closing Thoughts: Making the Choice Between Logic Pro and Garageband
In summary, deciding between Logic Pro vs. Garageband involves considering how each serves distinct user needs. Garageband suits beginners or those desiring a simple start with cost-free and user-friendly features. 
On the other hand, Logic Pro X is the choice for ambitious musicians and professionals, offering advanced features and creative tools. To decide, assess your budget, skills, and production goals, aligning your choice with your aspirations. Both DAWs empower creativity in music production.
How To Get The Most Out Of Logic Pro X
Are you ready to take your music production skills to the next level to start creating genuinely great music? Music Production In Logic Pro X with Rob Mayzes is a Logic Pro X masterclass that will take you through everything you need to know about developing professional sounding mixes.