Reaper is one of the most popular & versatile DAWs on the market today. A big reason for this is how easily it can be enhanced with various free & paid plugins. In this brief guide, we will explain Reaper plugins and how they can boost your production workflow. We will also look at the seven best free Reaper plugins we have come to rely on. It's time to take your Reaper workflow to the next level!
What are Reaper Plugins?
Reaper plugins, often called VST plugins, are essential components of the Reaper digital audio workstation (DAW). They are third-party add-ons that enhance Reaper's functionality and capabilities. 
These plugins come in various forms, such as virtual instruments, audio effects, and MIDI processors. They're designed to expand your creative possibilities and streamline your music production process. They also allow you to create a more intuitive workflow that works for you. 
When it comes to using Reaper (or any DAW), you have the option to add both paid and free plugins. Reaper stands out, however, due to the sheer number of free plugins available that are genuinely useful. Ultimately, finding the best free Reaper plugins will come down to your personal needs and preferences. 
How Reaper Plugins Enhance Your Production Workflow
Using plugins with Reaper is helpful & efficient for multiple reasons. Above all else, they allow more options and flexibility within your Reaper projects. This includes allowing you greater capabilities when it comes to the following:
Sound Manipulation:

Reaper plugins provide a vast range of audio effects that allow you to shape and manipulate your audio recordings. Whether adding reverbs, compressing vocals, or creating intricate soundscapes, these plugins give you the power to transform your tracks.

Virtual Instruments:

With virtual instrument plugins, you can access various virtual synthesizers, pianos, drums, and more. This means you don't need physical instruments to create music; you can harness the power of virtual instruments within Reaper.

MIDI Processing:

Reaper plugins can process MIDI data to generate musical patterns, harmonies, and arpeggios. They also enable you to experiment with different melodies and harmonies, making the composition process more versatile.

Automation:

Additionally, many Reaper plugins support automation, allowing you to create dynamic changes in your music over time. You can automate parameters like filter sweeps, volume changes, and panning to add movement and expression to your tracks.

Time-Saving Features:

Some Reaper plugins, especially those from the SWS extensions suite, offer time-saving features like custom actions and macros. In other words, these tools can help you optimize your workflow by automating repetitive tasks and creating custom shortcuts.

High-Quality Processing:

Lastly, Reaper plugins are known for their high-quality audio processing. They ensure that your audio remains pristine even after applying various effects, making them suitable for professional music production.
LOOKING FOR THAT PRO SOUND?
Download our most popular resource: 6 Steps for Creating Radio Ready songs to learn the fundamentals of what goes into a professional mix from renowned Producer, Songwriter & Mixer Warren Huart, who has worked on several Grammy-nominated albums!
Are There Good Free Plugins For Reaper?
Absolutely! Reaper users can access many high-quality free plugins to enhance their music production experience. This is a big part of why Reaper remains a popular DAW choice among production engineers. 
How To Install Free Reaper Plugins
As mentioned above, Standing Water Studios (SWS) offers a range of free plugins for Reaper that are widely used. If you want to learn more about how these extensions work and how to install them, we recommend checking out our detailed guide on How to Load Plugins in Reaper.
The 7 Best Free Reaper Plugins for 2024
There are a ton of great plugins you can add to Reaper for free. Below are, in our experience, 7 of the best free Reaper plugins you can use to upgrade your creative flow!
#1) Azurite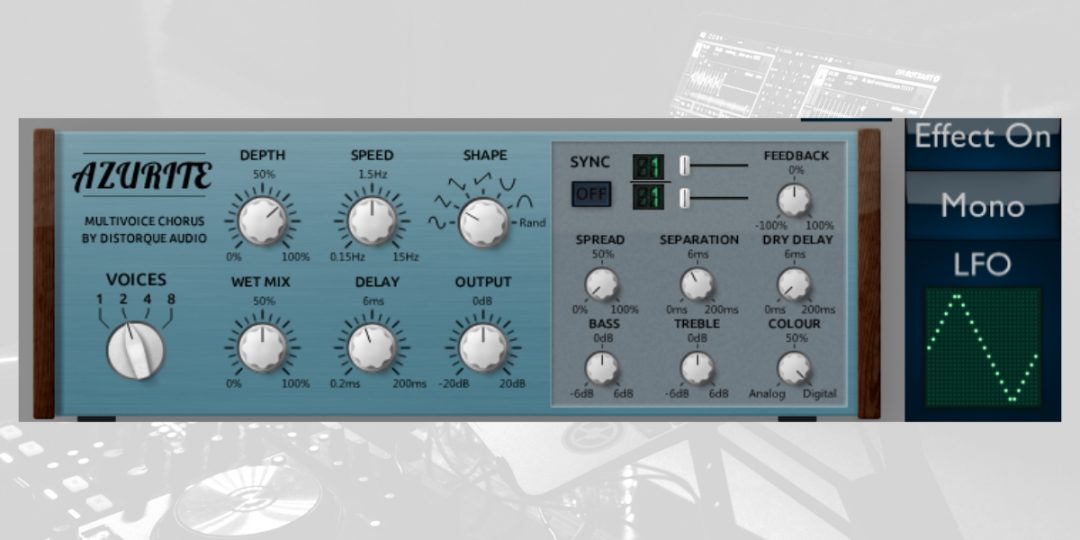 Azurite is a remarkable free Reaper plugin that adds a touch of magic to your audio recordings. This versatile plugin specializes in chorus and flanger effects, offering a wide range of sonic possibilities. 
With Azurite, you can achieve lush, modulated textures that breathe life into your tracks. Whether you're working on vocals, guitars, or synths, Azurite's intuitive controls and rich sound make it a great choice.
#2) TAL-NoiseMake
TAL-NoiseMaker is another outstanding free Reaper plugin that deserves a place in your production arsenal. This virtual synthesizer offers a treasure trove of tools & potential, from designing warm analog tones to futuristic digital textures.

TAL-NoiseMaker also has a user-friendly interface loaded with features like multiple oscillators, filters, and onboard effects. Whether crafting intricate melodies or shaping soundscapes, this plugin empowers you to explore a universe of sounds within Reaper.
#3) Blip2000 by WOK
Next, Blip2000 by WOK takes inspiration from classic 8-bit video game consoles. This plugin is a fantastic choice if you're aiming for nostalgic chiptune vibes or unique sound effects. Blip2000 offers simple yet effective controls for crafting retro-style sounds, complete with square waveforms and lo-fi charm.

Whether you're composing chip music or adding a vintage twist to your tracks, Blip2000 brings a fun and nostalgic dimension to your Reaper projects.
#4) OrilRiver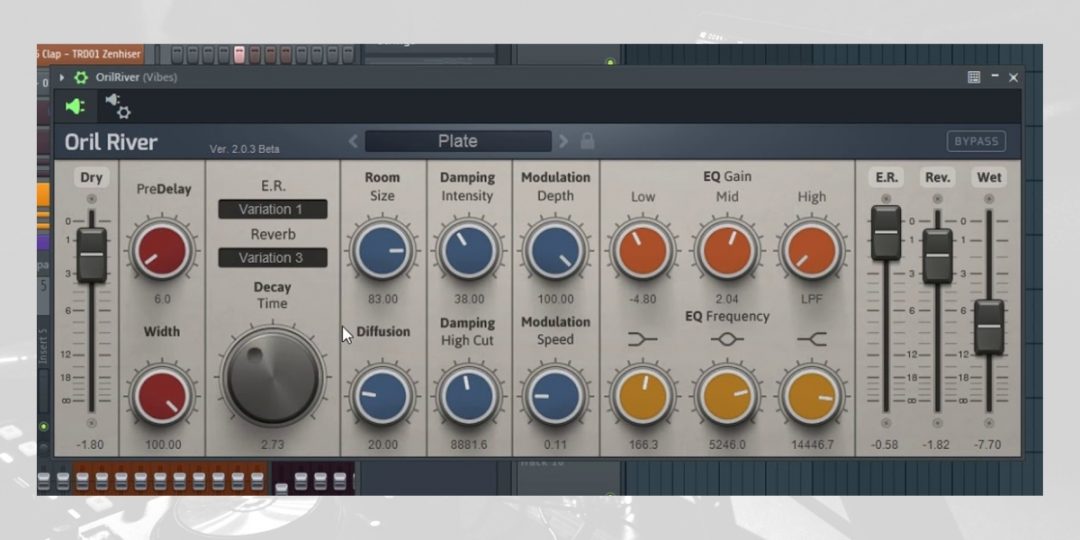 OrilRiver is another plugin that offers a wide range of reverb algorithms and parameters for Reaper. Ultimately, they allow you to tailor your reverb to suit any musical style or mood. Whether you need a subtle room ambiance or a lush, cavernous reverb, OrilRiver has you covered. With its user-friendly interface and high-quality sound, it's a valuable addition to your Reaper plugin collection.
#5) Argotlunar
Argotlunar is a unique and experimental plugin that lets you create completely new sounds in your Reaper projects. This granular processing tool lets you manipulate audio, transforming ordinary sounds into something extraordinary. With its real-time control and creative features, Argotlunar is perfect for those looking to push the boundaries of music production.
Argotlunar also lets you create these sonic transformations while your music is actually playing. It's like you're painting with sound in real time. In other words, if you want to break free from traditional music-making, Argotlunar is a must-try in your Reaper toolbox
#6) Step Machine
Step Machine is a powerful step sequencer plugin that integrates seamlessly with Reaper. It's designed to enhance your MIDI programming and automation capabilities, making creating intricate rhythmic patterns and sequences easier than ever.

Whether you're working on electronic dance music or experimental compositions, Step Machine's intuitive interface and advanced features make it a must-have for Reaper users.
#7) Smear
Lastly, Smear is a creative audio mangling tool that can add unique textures and timbral shifts to your audio in Reaper. This plugin excels at producing evolving and atmospheric soundscapes. It offers flexible controls and real-time modulation options. Therefore, Smear is perfect for experimental musicians and sound designers. It allows you to really push the boundaries of audio manipulation.
Looking To Enhance Your Reaper Capabilities Even Further?
Hopefully, our guide to the best free Reaper plugins will help you to unlock new dimensions in your music production. In conclusion, these tools enhance your creativity and empower you to craft outstanding music within Reaper.
Ready to embark on a journey to enhance your music production skills and create outstanding music in Reaper? We recommend checking out our Ultimate Guide To Reaper course to learn everything you need to know about recording and mixing songs in Reaper.