Mastering a song is the final step in the music production process, and Logic Pro X offers a unique set of tools to make the process easier and more intuitive for beginners. In this guide, we'll explore how to master in Logic Pro X, looking at a few of the essential steps, tools, & techniques you will need to get started. 
What Does It Mean To Master A Song?
Mastering a song involves enhancing and refining its overall sound to achieve a cohesive and balanced composition. It involves making various technical adjustments to optimize the song's dynamics, frequency balance, and stereo imaging. This ensures that it translates well and sounds excellent across different playback systems. 
In other words, this meticulous attention to detail enhances the sonic quality and helps to maintain consistency and coherence throughout an entire album or project. This means mastering is an indispensable step in the journey from the studio to the listener's ears.
Logic Pro Features A Few Unique Tools That Make Mastering Easy
Logic Pro X  offers a unique set of tools that help make the mastering process more simple and intuitive. These tools help you achieve professional-quality results within Logic Pro X without the need for additional expensive equipment. 
These features include:
Adaptive Limiter:

Logic Pro X's

Adaptive Limiter

controls dynamics and maximizes loudness without distortion. It automatically adjusts settings to balance your mix and achieve competitive volume levels while preserving dynamic range.

Match EQ:

The

Match EQ

feature in Logic matches the tonal balance of a reference track by applying an EQ curve to your mix. It helps you emulate the sound of professional mixes effortlessly.

Loudness Metering:

Logic Pro X includes loudness metering options like LUFS to ensure your mix complies with industry standards. It helps you set the perceived loudness of your track, ensuring consistent playback across different platforms.



Automation and Plugin Support:

Logic Pro X allows precise control of parameters through automation. You can automate volume,

Logic EQ

, and other plugin settings to achieve consistent adjustments throughout your master.



Additionally, the DAW supports a wide range of third-party logic pro plugins, expanding your creative options even further. We will look at how some of the features can be used for mastering in a little more detail below. 
How To Master In Logic Pro X (5 Tips To Follow)
When mastering your songs in Logic Pro X,  these 5 tips will help you achieve a professional-quality sound:
#1) Gain Staging Your Reference Tracks
Start by importing a reference track into your Logic Pro session. A reference track is a professionally mixed and mastered song with a style or genre similar to your track. 
Use the reference track as a benchmark to set your mix's overall loudness and tonal balance. Adjust the gain of your mix to match the perceived loudness of the reference track. You want to find a balance between being too quiet or overly compressed.
Having a good reference track also allows you to use some of Logic's mastering tools, such as a Match EQ, to their full potential. 
#2) Utilize Logic's "Match EQ" Tool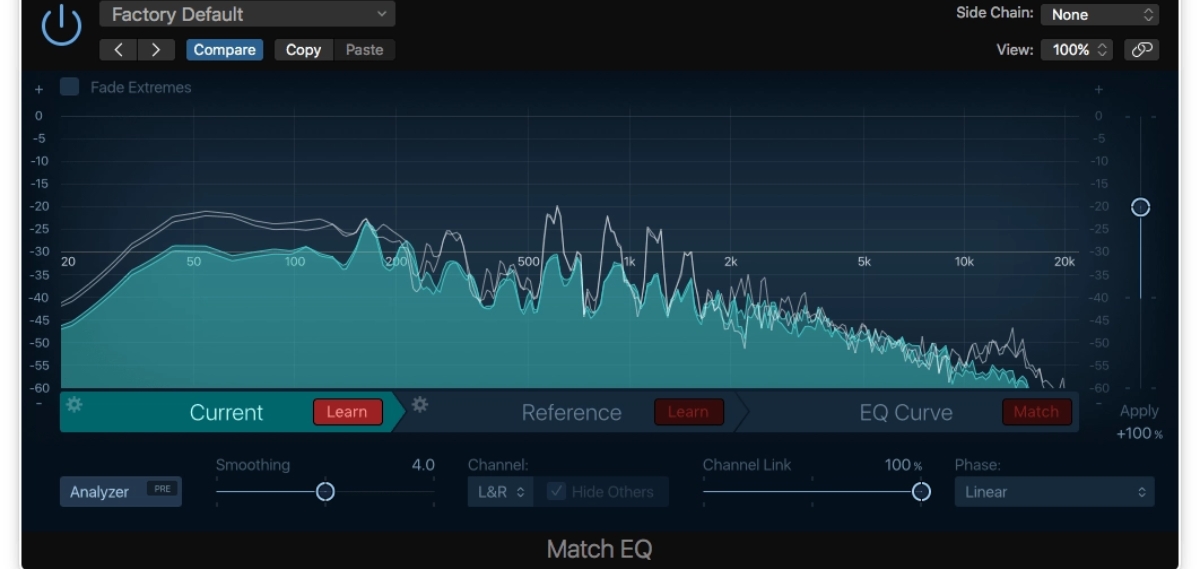 As we already touched on above, Logic Pro X's Match EQ feature is a powerful tool that can make the mastering process much easier for you. 
Match EQ allows you to analyze the frequency spectrum of a reference track and apply the same EQ curve to your mix. This is a quick and easy way to attain a similar tonal balance within your track. By utilizing Match EQ, you can ensure that your mix aligns with the professional sound of your reference track, giving it that polished and cohesive quality. 
Therefore, experimenting with the settings and adjusting the intensity of the match will help you achieve a pleasing and well-balanced sound.
#3) Set Your Loudness
Next, to ensure your song meets the desired loudness standards for different platforms, you need to set the overall loudness of your mix. 
Logic Pro provides various loudness metering options, such as LUFS (Loudness Units Full Scale), to measure the perceived loudness of your track. Aim for a loudness level that is appropriate for your genre and platform. 
In our experience with mastering in Logic Pro X, you should aim to hit a loudness that falls somewhere between -10 to -14 LUFS. This is because this range fits nicely within the loudness normalization settings for most streaming services. This ultimately means the track remains uncompressed, and the streaming playback will be very close to your original master. 
#4) Take Advantage Of Logic's "Adaptive Limiter"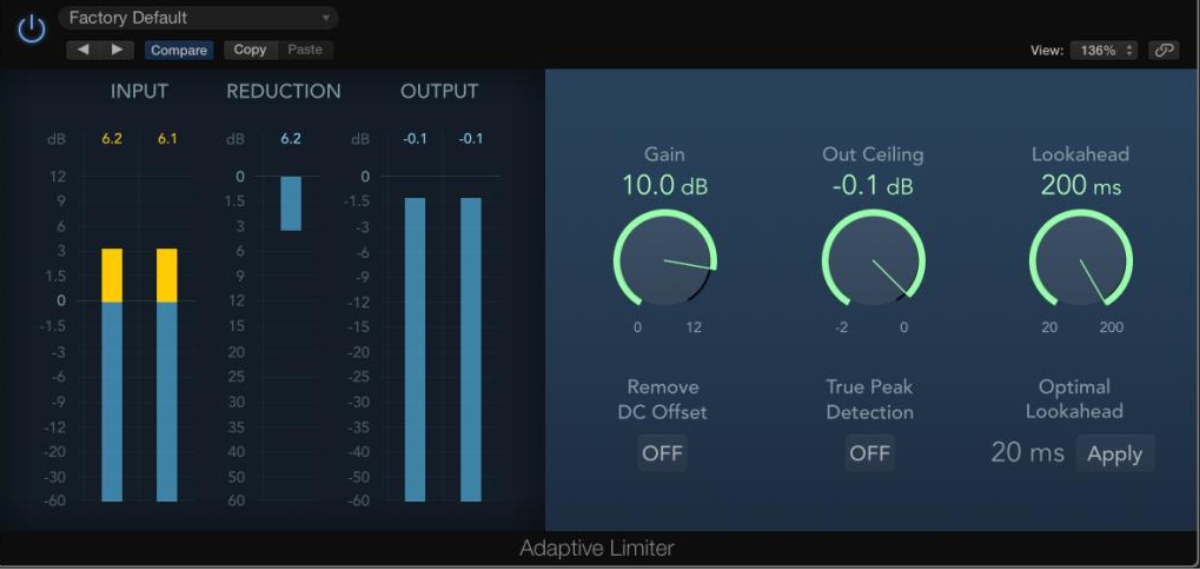 Logic Pro's "Adaptive Limiter" is a powerful tool for controlling the dynamics and maximizing the loudness of your mix. 
It also helps prevent peaks from clipping and allows you to achieve a competitive and commercially viable loudness level. 
Adjust the threshold and output ceiling of the limiter carefully to maintain a good balance between loudness and dynamic range. This will ensure your mix doesn't become overly squashed.
#5) Export The Correct File Type
Finally, once you're satisfied with your master, it's time to export the file. It is essential to ensure it is the correct file type.
Logic Pro offers various options, but for most distribution & streaming platforms, a high-quality, uncompressed audio format like WAV or AIFF is recommended. 
WAV & AIFF files preserve the full fidelity of your mix and ensure the best possible sound reproduction on the listening end. Exporting in uncompressed formats allows for greater flexibility in post-production processes. Ultimately, it avoids any potential quality loss caused by compression. 
You will need to set the appropriate sample rate and bit depth based on your project settings and the distribution or streaming platform requirements to maintain the integrity of your mastered track.
If you are unsure how to choose your sample rate and bit depth, we recommend starting with a 16-bit depth and 44100 Hz sample rate. This combination balances audio quality and file size, making it compatible with most platforms and devices.
If you'd like to learn more about different Logic audio file types, we recommend checking out this video: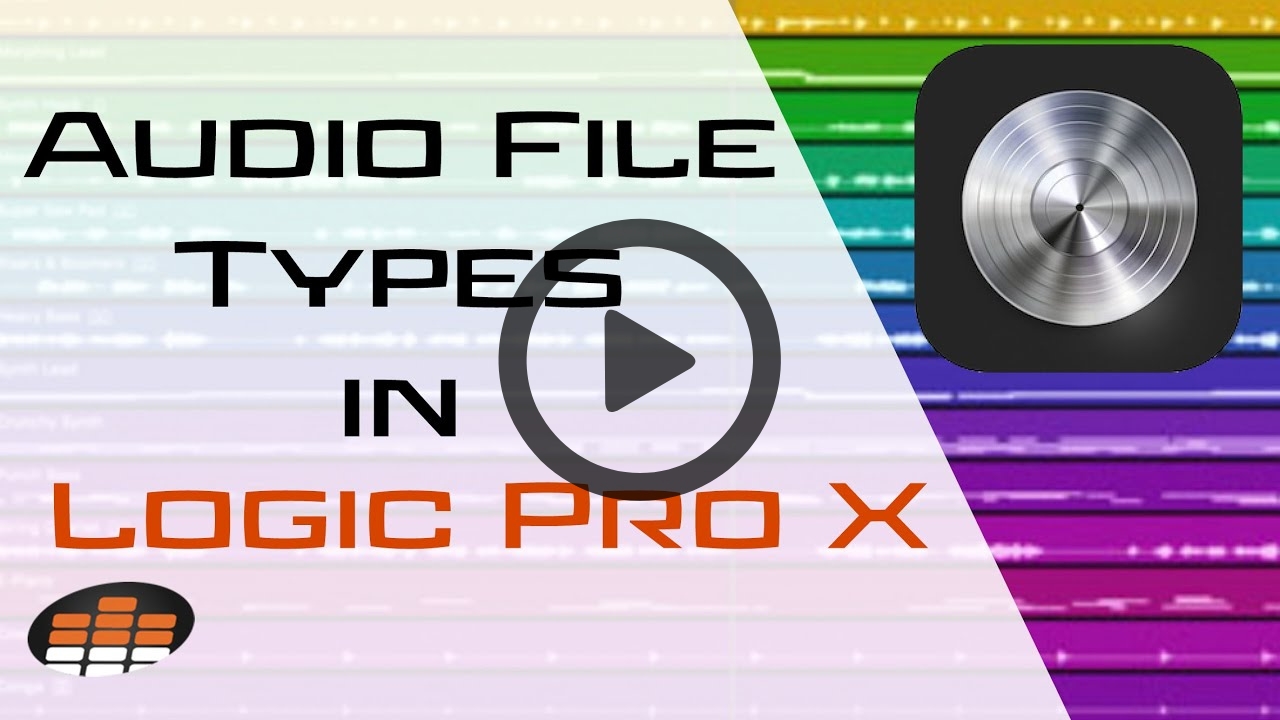 Closing Thoughts: Why You Should Learn How To Master In Logic Pro X
Mastering is an essential skill for every music producer or engineer. With Logic Pro X's powerful tools and intuitive workflow, you can achieve professional-sounding masters from your home studio. 
Remember, mastering is both an art and a science, so take the time to experiment. It's all about listening critically and trusting your ears. Keep practicing and refining your mastering techniques to elevate your music to the next level.
Looking for More Logic Pro Tutorials?
Hopefully, this guide has given you a more in-depth understanding of how to master Logic Pro X. If you're eager to unlock the full potential of your songs and achieve a professional, world-class sound, look no further than our popular Mastering Music with Warren Sokol course. 
This exceptional course lets you learn directly from a highly accomplished mastering engineer. You will gain invaluable knowledge and techniques to help make your music sound professional and stand out. 
Don't miss out on this chance to elevate your music & embark on a transformative journey for your sound!
LOOKING FOR THAT PRO SOUND?
Download our most popular resource: 6 Steps for Creating Radio Ready songs to learn the fundamentals of what goes into a professional mix from renowned Producer, Songwriter & Mixer Warren Huart, who has worked on several Grammy-nominated albums!