Imagine a world of music where every note lands perfectly in time and every beat grooves effortlessly. That's the magic of quantization in Pro Tools – a powerful tool that can turn your recordings into tight, polished performances. This guide will explain quantization, how it works, and how to use it most effectively. We will also explain how to quantize tracks in Pro Tools so that your songs sound tighter and more professional. 
Understanding Quantization in Music Production
Quantization is an important concept and tool in the world of music production. In order to record the best possible sounding songs, it's crucial to understand quantization. 
Quantization involves aligning all of your notes and beats to a predetermined grid. It ultimately helps to ensure the accuracy and precision of your song's timing.
In other words, quantization allows you to correct timing discrepancies between the collective notes in your song. The result is a tightened-up performance that creates a more polished-sounding finished product.
To understand quantization better, it's essential to grasp how it works at its core. When musicians perform, there can be slight variations in timing, leading to notes falling slightly ahead or behind the beat. Quantization addresses this by analyzing the recorded performance and adjusting the timing of individual notes or beats to align with the grid.
One key aspect of quantization is the quantization strength, which determines how closely the notes will snap to the grid. Higher strength values result in more rigid timing alignment, while lower values retain some of the original timing nuances for a more human feel.
Quantization isn't limited to fixing timing issues; it's also a creative tool. Music producers use quantization intentionally to achieve specific rhythmic effects or to create robotic, machine-like grooves.
Understanding these fundamental aspects of quantization sets the stage for exploring its various techniques and applications in Pro Tools, which we will delve into in the following sections.
How Does Quantization Work?
Quantization works by analyzing the timing of musical events, such as notes or beats, and adjusting their positions to align with a predefined grid. Here's a quick and dirty breakdown of how quantization works:
Grid Resolution:

Quantization relies on a grid, which divides the musical timeline into equal segments. The grid's resolution is measured in musical divisions, such as quarter notes, eighth notes, or even smaller subdivisions like sixteenth notes or triplets. The chosen grid resolution determines the level of precision for quantization.

Note Detection:

In Pro Tools or any digital audio workstation (DAW), the quantization process begins with note detection. The DAW identifies the timing and duration of individual musical notes based on the recorded performance.

Alignment:

Once the notes are detected, quantization aligns their starting points with the nearest grid lines. This ensures that notes fall precisely on the chosen beats or subdivisions. The quantization strength mentioned earlier determines how closely notes adhere to the grid.

Correction:

In addition to aligning the starting points of notes, quantization can also correct the duration of notes. This is particularly useful for ensuring consistent note lengths in electronic music or tightening up rhythmic performances.

Groove Templates:

Some DAWs, including Pro Tools, offer the ability to apply groove templates. Groove templates capture the unique timing and feel of a particular performance or style. When quantizing to a groove template, the DAW adjusts the timing of notes to match the groove's nuances, giving the track a specific feel.
Understanding these underlying mechanisms of quantization empowers music producers to make informed decisions when applying this technique to their recordings. 
When Would You Quantize Tracks?
Quantization can enhance or improve various aspects of a song's production. Here are some scenarios where quantizing tracks can be advantageous:
Rhythmic Precision:

Quantization is often employed to tighten up the timing of musical performances. Suppose a drummer's beats are slightly off or a guitarist's strumming lacks consistency. In that case, quantization can align these elements precisely with the desired rhythm, resulting in a cleaner and more polished sound.

Groove Correction:

Sometimes, musicians intentionally introduce variations in timing to create a specific groove or feel. However, these variations may need adjustment in the editing phase to maintain consistency throughout the song. Quantization allows you to preserve the overall groove while refining specific elements.

MIDI Programming:

When working with MIDI instruments, quantization is crucial for achieving precise and consistent note timing. This is especially relevant for electronic music genres where tight rhythmic control is essential.

Layering Instruments:

In multi-instrument arrangements, quantization helps align different tracks to complement each other seamlessly. This ensures that the various elements of the composition work together harmoniously.

Live Recordings:

Live recordings can capture the energy and spontaneity of a performance, but they may also contain timing discrepancies. Quantization can salvage these recordings by correcting minor timing issues without sacrificing the live vibe.

Syncing to Visual Media:

When scoring music for film, television, or video games, precise synchronization with visual cues is critical. Quantization helps ensure that musical events align perfectly with the on-screen action.

Creating Remixes:

DJs and remix artists often use quantization to sync up elements from different songs, allowing them to blend and remix tracks seamlessly.



By understanding when to apply quantization, you can maintain the natural musicality of your recordings while addressing timing issues. In the next section, we'll explain how to quantize in Pro Tools specifically.
How To Quantize In Pro Tools
Quantization in Pro Tools offers various techniques and settings to align your musical elements. Here, we'll discuss how to quantize in Pro Tools, focusing on the three primary quantization methods: manual, grid-based, and groove quantization.
Manual, Grid-Based, and Groove Quantization
Manual Quantization:

For the utmost control over timing adjustments, manual quantization lets you individually adjust the timing of each note or event. This method is ideal when you need to correct specific moments while preserving the overall feel of the performance.

If you're looking for a powerful tool to simplify and enhance your manual quantization process, we recommend using Pro Tools Beat Detective. It allows you to meticulously fine-tune the timing of each note or event in your recording, offering a high level of control while preserving the overall groove and feel.
Grid-Based Quantization:

Grid quantization snaps musical events to a predefined rhythmic grid. Pro Tools provides a range of grid resolutions, allowing you to quantize notes to the nearest beat, 16th note, or even finer divisions. Grid quantization is excellent for achieving tight, predictable timing.

Groove Quantization:

Groove quantization allows you to apply the rhythmic feel of one track to another. For instance, you can capture the groove of a live drum performance and apply it to programmed MIDI drums. This method is perfect for maintaining the natural groove of a performance while improving timing consistency.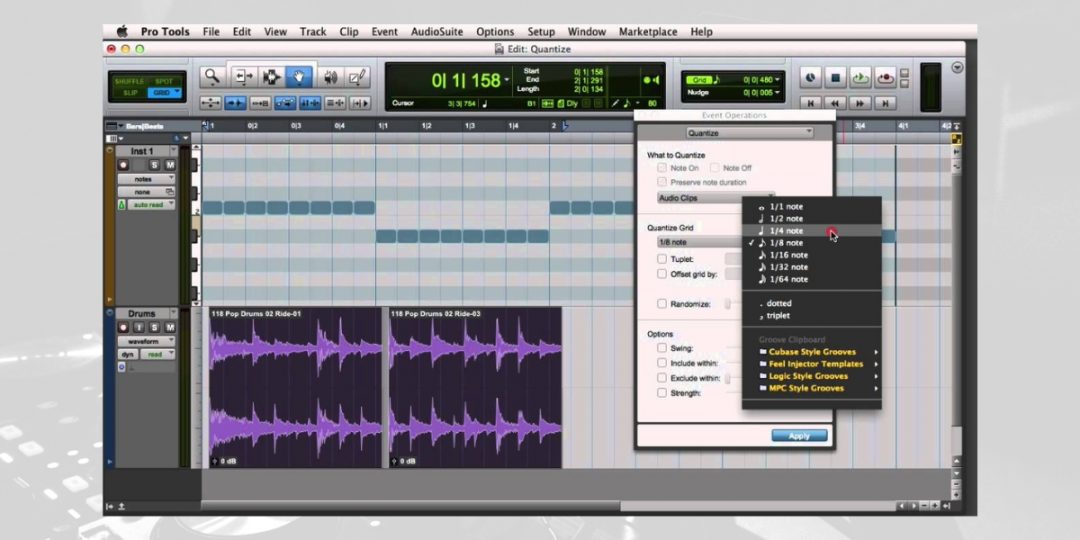 Tips For Enhancing Your Music with Quantization
Quantizing Different Instruments and Tracks
Quantization isn't a one-size-fits-all process; it varies depending on the instruments and tracks you're working with. We'll explore how to apply quantization effectively to different elements of your music:
Drums:
Achieving precise drum timing is pivotal for a solid rhythm section. To quantize individual drum tracks while preserving the drummer's groove and feel in Pro Tools, follow these steps:
Select the Drum Track:

Select the drum track you want to quantize in your Pro Tools session.

Open the Quantize Window:

Go to the "Event" menu, select "Event Operations," and then choose "Quantize." This opens the Quantize window.

Adjust Strength:

In the Quantize window, you can adjust the quantization strength. Higher strength values make the quantization more pronounced, while lower values retain some of the original feel.

Set Markers: To maintain the natural drum feel, set markers by zooming in on your waveform and labeling key drum hits, like the 'kick drum' (deep thumping) and 'snare drum' (sharp cracking). These markers act as signposts, making it easier to keep the timing of crucial beats when applying quantization, preserving your drum track's groove.
Quantize:

Once markers are set and strength adjusted, click the "Quantize" button. Pro Tools will align the selected drum track to the grid while preserving the drummer's groove.
Melodic Instruments:
Whether you're dealing with guitars, pianos, or synths, quantization can be a powerful tool for correcting timing discrepancies while respecting the unique characteristics of each instrument.

The process for quantizing melodic instruments is similar to that of drums. Select the track, open the Quantize window, adjust the strength, set markers, and quantize.
Bass:
Timing issues in bass performances can lead to a lack of groove and cohesion. To quantize bass tracks for a consistent foundation:
Select the Bass Track:

Choose the bass track you want to quantize in Pro Tools.

Quantize Settings:

Open the Quantize window, adjust the Quantize strength as needed, and set markers for critical bass notes or transients.

Apply Quantization:

Click the "Quantize" button to align the bass track with the grid, ensuring a solid foundation for your mix.
Vocals:
When mixing vocal performances, you can often benefit from subtle quantization adjustments to ensure the vocals align with the musical backing. Select the vocal track, open the Quantize window, fine-tune the strength, place markers, and quantize the vocal track for better timing.
By following these steps, you can effectively quantize different instruments and tracks in Pro Tools, enhancing your music's overall timing and feel.
Setting Strength, Using Markers, and Avoiding Over-Quantization 
Effective quantization requires meticulous attention to detail. In this section, we'll explore key aspects of quantization in Pro Tools.
Setting Strength:

Understanding and adjusting quantization strength is essential to strike the right balance between precision and preserving the original performance's feel.

You can access the Quantize window in Pro Tools through the Event menu.

Within this window, you can fine-tune the quantization strength. Increasing the value tightens the timing while decreasing it retains more of the original nuances. Audition different strength settings to ensure they align with your musical intentions.
Using Markers:

Markers are vital in identifying specific sections or beats that require quantization. By creating markers strategically, you can focus on critical areas of your track.

To create a marker, simply press "Enter" while playing your project.

With markers in place, you can selectively quantize specific sections or beats by highlighting the desired region and applying quantization settings within the Quantize window.
Avoiding Over-Quantization:

While quantization is valuable, excessive use can lead to an unnatural, robotic feel in your music. To maintain musicality and avoid over-quantization, use quantization sparingly.

Reserve it for sections or elements that truly require it. Some parts of your performance may benefit from retaining their natural timing.

In cases where extreme quantization may compromise musicality, consider manual adjustments to individual notes or beats to maintain a human touch.

 
By mastering these quantization techniques and considerations, you'll enhance your tracks in Pro Tools, achieving a tighter and more professional sound while preserving the musicality of your performances.
LOOKING FOR THAT PRO SOUND?
Download our most popular resource: 6 Steps for Creating Radio Ready songs to learn the fundamentals of what goes into a professional mix from renowned Producer, Songwriter & Mixer Warren Huart, who has worked on several Grammy-nominated albums!
Beyond Quantization: Learn To Master Your Pro Tools Projects
Hopefully, you now have a solid foundation for how to quantize in Pro Tools. But why stop there? If you're hungry for more knowledge and eager to master the art of music production, our 'Ultimate Guide To Pro Tools' course is your best bet.
From rhythmic precision to seamless melodies, this course opens doors to the kind of music production wizardry that legends like Chris Lord-Alge, Dave Pensado, Serban Ghenea, Jack Douglas, and Rick Rubin have mastered. Don't miss your chance to join their ranks – enroll today and let your musical journey soar!