When you're recording music, it's essential to make sure that all of the elements of your song can work together and sound good. This is why making sure that your song is consistently recorded to the correct tempo is so important. Fortunately, many DAWs offer a range of tools that help you easily dial in your tempo. That's where Pro Tools Tap Tempo comes in handy. In this guide, we will show you how to use Tap Tempo in Pro Tools and harness its ability to help keep your creativity flowing!
The Importance of Accurate Tempo in Music Production
One easily overlooked aspect of achieving professional-sounding recordings is the importance of tempo. When artists perform songs in a live setting, it's normal to produce slight changes in tempo that are, for the most part, imperceptible to the listener. 
Within reason, this is perfectly normal and part of what creates a performance's "live" feel. 
When it comes to recording audio, on the other hand, these inconsistencies can become obnoxious distractions that take away from the overall listening experience. Imagine listening to a song that speeds up and slows down without any rhyme or reason. You would never know what to expect and may find it gives the overall recording an amateurish feeling. 
This issue is multiplied if specific elements of a song change tempo at random while others remain consistent. 
To put it another way, the tempo of your song is the rhythmic heartbeat of your composition. It serves as the pulse that keeps all the elements in sync and sounding cohesive. Whether you are writing a speed metal burner, a heart-pounding dance track, or a slow and pensive ballad, having an accurate tempo ensures all of the musical elements work together. 
LOOKING FOR THAT PRO SOUND?
Download our most popular resource: 6 Steps for Creating Radio Ready songs to learn the fundamentals of what goes into a professional mix from renowned Producer, Songwriter & Mixer Warren Huart, who has worked on several Grammy-nominated albums!
What Is Pro Tools Tap Tempo? 
When working in a DAW like Pro Tools, you should set the tempo of the song you are working on early on. This will help ensure that each element you add to your composition is created or recorded at the correct tempo from the start. 
But what if you have a rough idea of the tempo you want to set but don't know the exact BPM number? Enter Pro Tools Tap Tempo!
Tap Tempo in Pro Tools lets you program the tempo of your music by physically tapping a button to your own chosen tempo. Pro Tools then applies a tempo that matches the one you tapped out.
In other words, Pro Tools Tap Tempo allows you to "tap along to the beat" for the tempo that you desire and then apply it to your track. We are happy to report that Tap Tempo is really easy to use! 
Benefits of Using Tap Tempo in Your Workflow
Tap Tempo isn't just a convenient button; it's a creative tool that can influence the mood of your music. Say you're jamming on your guitar or tapping on a drum pad, and you suddenly stumble upon a catchy rhythm that you want to program your tempo quickly. 
Rather than breaking out the metronome and finding the BPM, you can use Tap Tempo to set a tempo that works for you in real-time. Pro Tools will automatically adjust the tempo to match your taps as you tap along with your rhythm. This makes capturing spontaneous ideas a breeze, ensuring your music captures the energy of the moment.
How To Use Pro Tools Tap Tempo (5 Easy Steps)
Now, let's roll up our sleeves and dive into using Pro Tools Tap Tempo tool. Here's a step-by-step guide that will have you tapping your way to rhythmical precision.

#1) Accessing the Tap Tempo Feature
Before you can use Tap Tempo, you first need to adjust a few settings.
Open Your Pro Tools Project:

Launch Pro Tools and open the project you want to work on.

Locate the Transport Window or Bar:

Look at the top of the Pro Tools interface for the Transport bar.
To quickly access the Transport window, use the keyboard shortcut:

Ctrl+1

on PC or

Cmd+1

on Mac.
Configure the Transport Options:

Click the

downward arrow

button on the right side of the Transport window.
Ensure that both the

"MIDI Controls

" and "

Expanded Transport

" options are checked with green checkmarks. This is crucial for using the Tap Tempo feature.
#2) Tapping the Tempo Manually
With the Transport options set up, the Tap Tempo feature is ready to use.

Tap Along with Desired Tempo:

On your keyboard, tap the

"T" key

rhythmically to set the desired tempo.

Alternatively, use your

mouse

to click along with the desired tempo.

Automatic Tempo Adjustment:

Pro Tools will listen to your taps and adjust the project's tempo to match your tapping.
#3) How To Add Tap Tempo To An Individual Measure
You can use Tap Tempo for individual measures when you want to introduce specific tempo variations within your song.

Activate Tap Tempo:

Ensure you've set up the Transport options, as mentioned earlier.

Set Your Tempo:

Tap along with the desired tempo using the same methods as described above.

Apply To Individual Measure:

In the session's Tempo Track, double-click the

red Tempo Editor diamond marker.

Select the measure the change will be applied to, then click the

"+" icon

.

Highlight the BPM and then tap the tempo using the

"T" key

on your keyboard. 
#5) Syncing MIDI Devices with Pro Tools Tap Tempo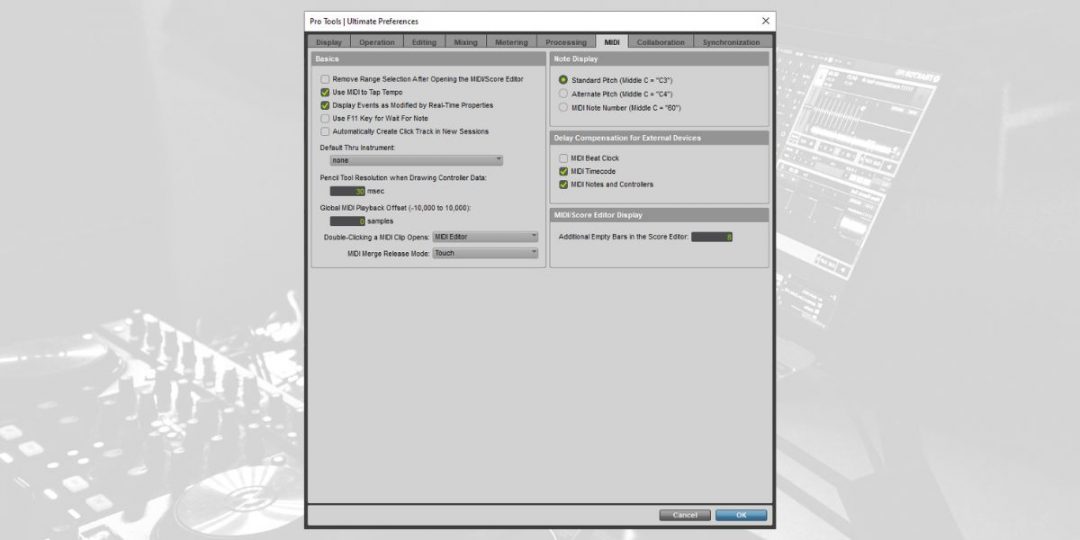 Pro Tools lets you connect a  MIDI device, like a drum machine or synthesizer, which can be used to set your tempo with Tap Tempo.

Navigate to Setup and open up your project preferences. 

Open the

Midi Tab

and then select the checkbox that says "

Use MIDI to Tap Tempo."

Click '

OK

' and close the settings. Tap Tempo will now trigger when you tap any key on your MIDI device

Follow the steps listed above to use and apply the tapped tempo. 
Looking To Master The Art Of Recording In Pro Tools? 
Learning the fundamentals of how to use your DAW is crucial to creating consistent & great sounding mixes. Knowing your way around Pro Tools features like Tap Tempo can save you time and effort along your musical journey.If you are looking to learn recording & mixing with Pro Tools, consider enrolling in our popular Ultimate Guide To Pro Tools course to get started with everything you need to know.